Performa P1 Controller 150A ESC

Performa P1 Controller 150A ESC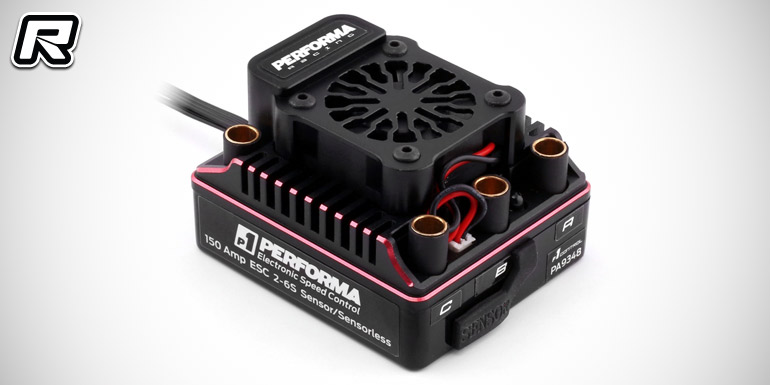 Performa Racing's P1 150A Sensor/Sensorless Controller was developed to deliver unmatched power, performance and reliability for demanding 1/8th scale racing applications. Built with high quality components and loaded with cutting edge firmware, the 150A-rated 2S to 6S LiPo-compatible ESC will protect itself from damage due to abuse, overuse, and even human error. With a high power output and adjustable parameters, the controller delivers the smooth throttle response and linear throttle/brake control even in demanding racing conditions. It also features an integrated HV BEC with 4 Amp output current, and adjustable output voltage from 6 to 8.4V. The Performa cooling technology utilises heat conductive copper bars to rapidly and effectively transfer all internal heat from the MosFET board to the integrated CNC machined billet aluminium heatsink housing. The cooling fan utilises a shock proof mounting system that reduces the possibility of fan damage due to the repeated shock of landing jumps in an 1/8 scale off road environment. The speedo also features an electronic switch, allowing settings from an integrated button while even easier programming is accessible using an optional programming box.
Specifications:
– Current: 150A continuous, 1080A peak
– Motor Type: Sensored/sensorless brushless motor
– Applications: 1/8 scale on road/off road, competition level
– Motor limit: 4S LiPo/12 Cell NiMH: 3000Kv for 4274 size or smaller motor, 6S LiPo/18 Cell NiMH: 2400Kv for 4274 size or smaller motor
– LiPo/NiMH Cells: 2-6S LiPo
– BEC output: 6V/7.2V switchable, continuous current of 4A (switch mode BEC)
– Cooling fan: powered by BEC output voltage
– Connectors: tubes
– Size: 58x48x37mm (LxWxH)
– Weight: 159g (no wires)
Source: Performa Racing [performaracing.com]
The post Performa P1 Controller 150A ESC appeared first on Red RC.
... Lire la suite sur Red RC - RC Car News