Nähr secures first ENS win at Season Finale

Nähr secures first ENS win at Season Finale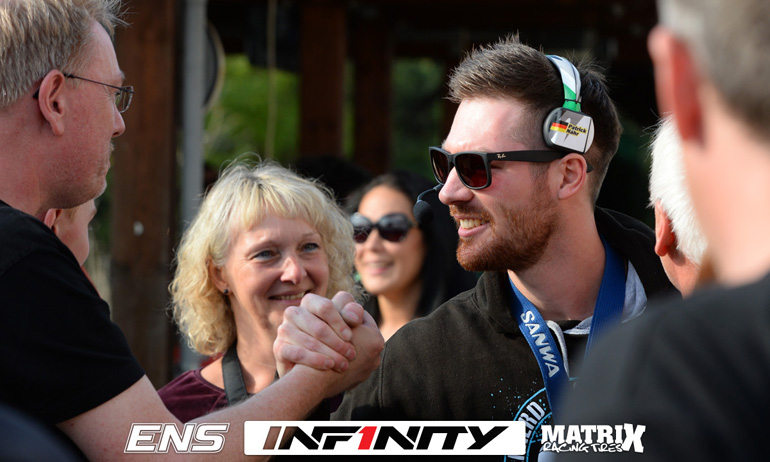 Patrick Nähr has secured his first ENS career win, the Shepherd driver leading a 1-2 finish for his team at the season finale in Ettlingen, Germany.  Only returning to competitive racing this season after a break due to work commitments, Nähr would have a great battle with Melvin Diekmann as the German duo each looked to lay claim on their first ever win of the championship.  As the race concluded Diekmann, who led for quite sometime, had the faster car but trying to make a pass on the penultimate lap he made contact with his team-mate.  Waiting for Nähr's car to be returned to the track he himself went off the track putting an end to what was building up to be a thrilling finish to the sixth season of the ENS.  Qualifying 3rd and 4th respectively, Nähr & Diekmann found themselves at the front after an unfortunate incident between Top Qualifier Jilles Groskamp and Thilo Tödtmann.  Having engine issues in the warm-up, Groskamp started the race ok with Tödtmann on his bumper but the engine flamed out 3-minutes into the race and with nowhere to go Tödtmann ran into the rear of it causing a pivot ball to come off.  Both would rejoin and Tödtmann challenged for the podium on the final lap but missed out to Leo Arnold while Groskamp got 6th.
Continue reading this report here or view our complete event coverage here.
The post Nähr secures first ENS win at Season Finale appeared first on Red RC.
... Lire la suite sur Red RC - RC Car News