Dominic Greiner dominates 1/10th Nitro Euros

Dominic Greiner dominates 1/10th Nitro Euros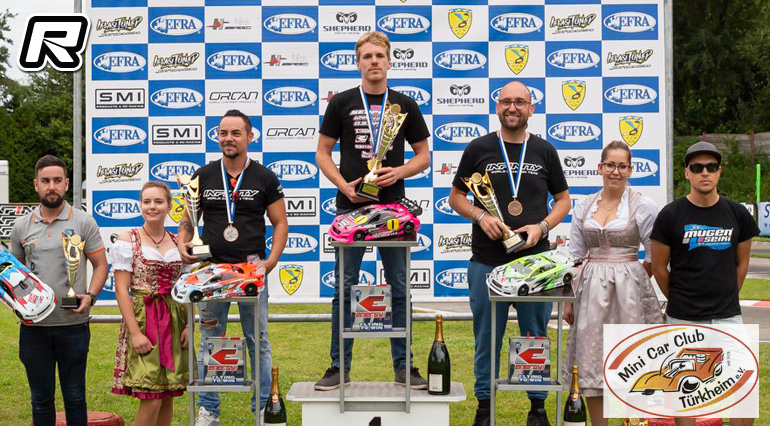 The 2019 EFRA 1/10th Nitro European Championships were held last week at the Mini Car Club Turkheim track in the south of Germany. Qualifying would see complete domination from Serpent driver Dominic Greiner, the former World Champion taking all rounds of qualifying at what is his home track to secure the pole position for the 45 minute main final. Behind the German, Dario Balestri was the best of the rest, the Infinity driver heading the Mugen of fellow 1/8th World Champion Robert Pietsch with the Xray of Alessio Mazzeo and Shepherd of Patrick Nahr completing the top 5, those 4 drivers going into super pole. Following some tuning and engine issues in the Super pole event for Balestri and Mazzeo it would be Pietsch that would come out on top and take the final direct place in the main final with everyone else needing to battle it out in the Semi finals for the remaining 8 places.
In semi final A it was Teemu Leino who would head an Infinity 1-2-3 with Jilles Groskamp and Balestri securing their place in the main show with Shepherd team mates Eduardo Escandon and Nahr also coming through from the faster Semi A. In Semi B Francesco Tironi took the win in front of Mazzeo with the Shepherd of Thilo Todtmann taking 3rd to line up 10th and last on the grid in the final. In the main final itself it was again another dominant showing from Greiner who, aided by quick pitstops from long time mechanic Thomas Gunsel, was able to take the win some two laps up on his nearest rival. Dario Balestri would progress his way through the field to take the runner up spot, while his team mate and fellow Italian Francesco Tironi would complete the podium in 3rd, just edging out Pietsch who would have to settle for 4th.
Main final results
1. Dominic Greiner – 199L 45:12.437
2. Dario Balestri – 197L 45:10.448
3. Francesco Tironi – 196L 45:02.931
4. Robert Pietsch – 196L 45:03.363
5. Thilo Todtmann – 193L 45:01.916
6. Jilles Groskamp – 193L 45:06.279
7. Patrick Nahr – 173L 40:10.203
8. Eduardo Escandon – 99L 28:25.000
9. Alessio Mazzeo – 38L 8:36.388
10.Teemu Leino – 19L 4:16.905
Image: MCC Turkehim [facebook.com]
The post Dominic Greiner dominates 1/10th Nitro Euros appeared first on Red RC.
... Lire la suite sur Red RC - RC Car News