Tebo moves closer to first Reedy title with 2 rounds to (...)

Tebo moves closer to first Reedy title with 2 rounds to go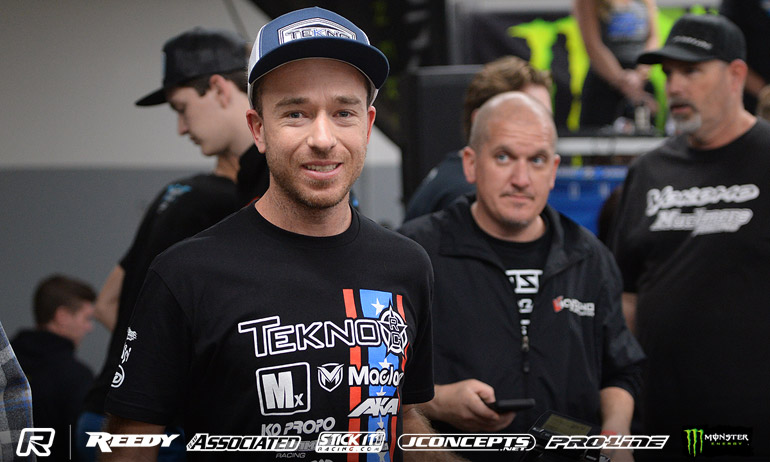 Jared Tebo has moved closer to his first ever Reedy Race of Champions title after the Tekno driver made up for a disappointing start to the final day's racing by taking his 3rd win of 2WD in the fourth round.  After giving up a win in the previous round, Tebo converted a 7th place starting position into a win over pole sitter Ty Tessmann and with two rounds to go he holds a 2-point lead over Ryan Maifield with Spencer Rivkin who is carrying a 5th sitting third.  Also starting P7, Maifield added his fourth win of the event thanks in part to team-mate Ryan Cavalieri.  Making a late mistake, the same place Tebo threw away his win in the previous round, this allowed Cavalieri to go to the front but the new Yokomo signing took a wide line that allowed Maifield back to the front for a win that keeps the former champion in the hunt.  With the best starting position of the trio, starting third, Rivkin couldn't respond to the pace of pole sitter Broc Champlin and had to settle for a P2 1.6-seconds back on his Associated team-mate.  For defending champion Dustin Evans the round netted him a P4 from 10th, a result that effectively ends his hopes of a third title.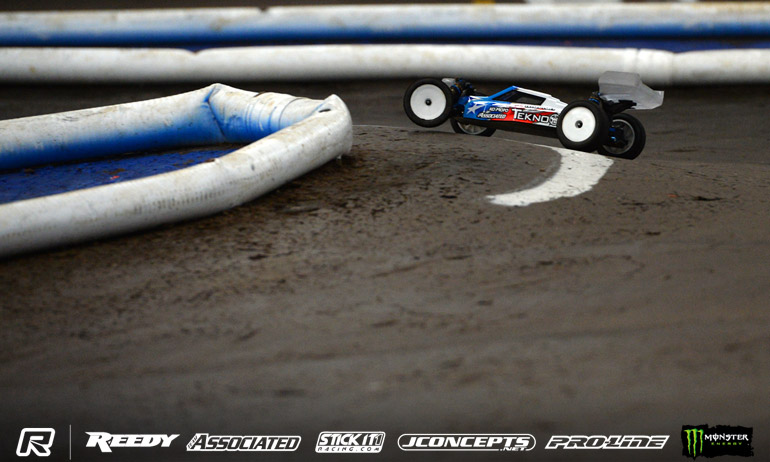 'I've put the first race behind me.  I'm really happy with that win', was Tebo's reaction to his fourth win of the event.  He explained, 'It was a good race.  I started 7th, there was a pile up and I was able to squirt through that and then chased down Ty'.  With two races separating him from adding his name to the Mike Reedy Heritage Trophy on this the 25th running of unique heads up racing format event.  Asked about the remaining races, the former World Champion replied, 'I am not going to look at the heats. I'm not going to look at the points. I'm just going to race who I am racing and do my best'.
Summing up his race, Maifield said, 'I got a little love from my team-mate the last lap but that keeps me in the outside hunt. It is very hard when Jared keeps winning'.  Lifting the Reedy Race title in 2015, he added, 'I'm starting 5th for the next one and have a front row for the last one. I'm just going to try and win out from here but it is in his hands if he keeps winning'.  The World Champion added, 'I got a 1st and 2nd from 7th in the last two races which shows my car is working. Getting through the field like that is good. Unfortunately I am carrying that 6th from 4WD and that is hurting me. I will try the best I can in the last two and have fun doing it'.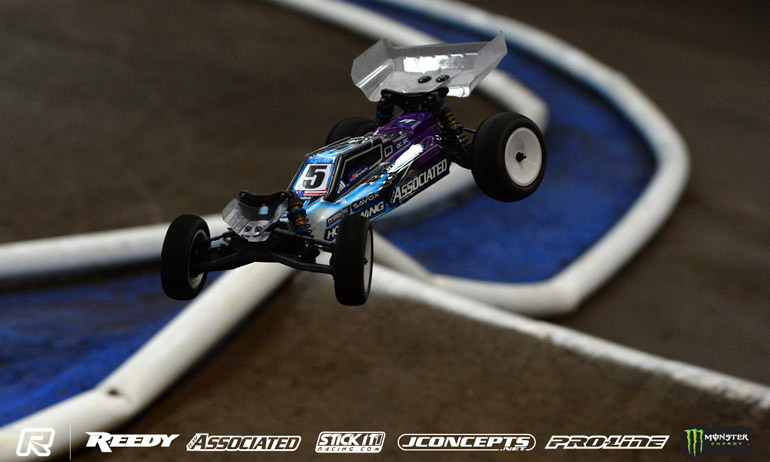 'I started 3rd and finished 2nd. Me and my team-mate were chasing each other down. I gave everything I had', was Rivkin's reaction to the 10th of the 12 rounds of racing that make up the Reedy Race.  Like Tebo and also chasing his first Reedy title, the Arizona driver said, 'now other teams are giving positions to their higher points drivers. It would be nice have that same privilege but it didn't work out that way.  I'm bummed Cav let Maifield go but we are still in the hunt'.
View the complete event results here.
View our event image gallery here.

... Lire la suite sur Red RC - RC Car News