Tamiya 1/14 Buggyra Fat Fox TT-01 Type-E race (...)

Tamiya 1/14 Buggyra Fat Fox TT-01 Type-E race truck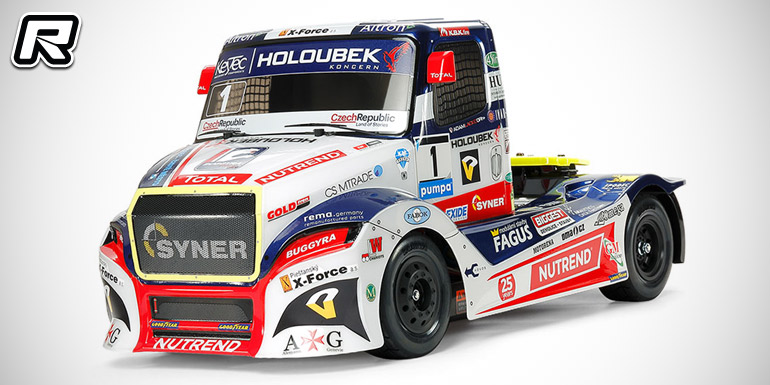 The next in the line of Tamiya's popular TT-01 Type-E-based race trucks is the Buggyra Fat Fox kit. This model recreates the Buggyra Racing Fat Fox piloted in the 2018 season of the European truck racing circuit by 2017 champion Adam Lacko. The realistic body is a 3-piece set made from lightweight and durable polycarbonate, with separately moulded plastic side mirrors, coupler and rear bumper parts. The TT-01 Type-E chassis is a proven performer, and this chassis is fitted with dedicated semi-truck wheels and tyres for the model. The bathtub frame of the evolved shaft-driven 4WD TT-01 Type-E has its motor and battery close to the ground for lower centre of gravity and optimum balance. Mounted on the bathtub frame is a fibreglass reinforced nylon upper deck and gear covers improving rigidity, as well as a 3-piece tie rod providing a smoother steering action. The low center of gravity, great balanced design, 4-wheel double wishbone suspension system, and front and rear differential gears all come together to produce excellent operating ability. 70mm-diameter radial tires are paired with wheels developed just for this model; the high sidewalls make for forgiving turns. The kit will hit stores very soon.
Features:
– The Buggyra Fat Fox form is captured by a 3-piece polycarbonate body (2 cab components and body) put together using double-sided tape
– Separate polycarbonate rear fender and coupler parts, moulded plastic side mirrors and 2-piece rear bumper
– Included stickers recreating the sponsors and livery of the #1 truck for the 2018 season, driven by Adam Lacko
– Black moulded wheels and 70mm diameter radial tires are specifically designed for racing truck models
– Features moulded parts compatible with 5mm taillight LEDs in separately-sold Tamiya LED Light Unit
– The TT-01 Type-E chassis features shaft-driven 4WD with easy handling and great customisability
– TT-01 Type-E chassis Hop-Up Options available
– Includes 540-Type Brushed motor
– Includes Tamiya TBLE-02S ESC (electronic speed control) Capable of running sensor brushless motors and brushed motors alike. (21.5 Turn BL motor limit) (23 Turn brushed motor limit)
Source: Tamiya [tamiya.com]
The post Tamiya 1/14 Buggyra Fat Fox TT-01 Type-E race truck appeared first on Red RC - RC Car News.
... Lire la suite sur Red RC - RC Car News