Tamiya Benelux final – Race report

Tamiya Benelux final – Race report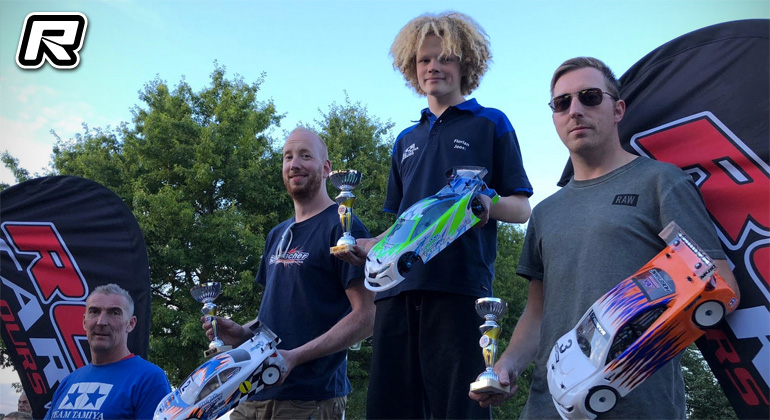 The Tamiya Benelux final is the annual closing race of the Dutch and Belgian championship series. Like the previous years, the race was held at the fast and beautiful track of MAC de Baanbrekers in Rucphen, the Netherlands. The race attracted almost 120 racers, divided in the classes of Fighter (DT03 chassis), Euro Truck (TT01E chassis with truck bodies and Carson cup 16t motor), Euro stock (TT01 or TT02 chassis with Carson cup 540 brushed motor), Euro M-chassis (mostly M07 with Carson cup 16t motor), Euro TW (TA07 with Carson cup 16T motor), F1 (21,5 brushless) and Euro GT (TRF cars with Carson cup 12T motor). Saturday was open for free practice and a 2,5 hours Endurance race with TT01 Mercedes 190 cars. Sunday saw 2 rounds of qualifiers followed by 3 finals of 7 minutes each. Due to the high number of racers and the longer finals, the last final was run at 19pm.
Euro GT
This is the fastest class. With the 12T motors, the cars are about .5 seconds a lap faster than a 13,5 brushless motor. Having taken last year's title, current Dutch champion Robert Krens was the hot favourite for the title. His biggest competition would come from fellow Dutch driver Peter Ende and Belgian racer Florian Joos, who unfortunately missed Saturday's practice rounds. In the qualifiers, Florian Joos made most out of his new rubber to seal the overall TQ with 3 seconds in front of Robert. Peter finished in P3 and was followed by French driver Olivier Cornard and Belgium's Peter Roeygens, the only driver to opt for a plastic TA07 chassis.
In the first final, Robert chased Florian hard and tried to overtake him on two occasions. Unfortunately both cars touched, but Robert sportingly waited for Florian to recover. When they entered the main straight in formation, disaster struck as Florian couldn't avoid a spinning car in front of him. Robert managed to avoid the crash while Florian had to retire his broken car. Robert then pushed hard to recover the lost ground. He first passed Olivier Cornard, then Peter Roeygens. 5 laps from the end he managed to overtake Peter Ende as well to seal the win.
At the start of final 2, Florian managed to create a gap between himself and Robert, because he lowered his gear ration to get some more speed down the straight. After 2 laps however, Florian's car started to behave erratically. His motor fan came loose and was trailing next to his car. At one point, this set him off in a spin, but it also sheered the fan off. In the meantime, Robert took the lead with Florian doing everything to regain the lost time. He crept in Robert's slipstream who held the door firmly shut. As both leaders were about to lap a back marker, Florian made an audacious move to pass both cars. The back marker unfortunately hit Robert, who finished in the grass and had to retire his race. Peter Ende took a fine second place in front of Olivier Cornard, who had to fend off a fast charging Peter Roeygens. Hans Oei made a great recovery and finished in P5 coming from the 10th place on the grid.
The 3rd and last final would decide if Robert would prolong his title for another year or if Florian would take his first title. Robert used 2 sets of rear tires to get the best possible traction. Unfortunately this made his car hard to drive, and he spun it on the first corner while riding the kerb. This gave Florian a huge lead, which he never conceded. Robert, who was dead last and lost 8 seconds in the process got back into Peter's slipstream but had to settle for P3.
The overall results were; Florian Joos, Robert Krens, Peter Ende, Olivier Cornard and Peter Roeygens.
Euro TW
Most racers opted for the TA07, which proved to be a great budget racing car. The Dutch racers really dominated this class, as there was only 1 Belgian racer who managed to qualify in the top 5. Long time Tamiya racer Erik-Jan Mol took the TQ. The biggest surprise was however the performance of Maarten Wouters. This 11 year old Dutch racer recently took the German national Tamiya stock title in Sonnenberg by crushing the German competition. Maarten used a loan car for this race and was only 2 seconds behind Erik-Jan. Mario Taekema qualified in P4, just .5 of a second in front of Eric Mulder with Sven Cassiers rounding off the top 5.
At the start of A1, Erik-Jan took the holeshot and never looked back. Maarten got the worst of the first corner pile-up and dropped way back to the rear of the race. He managed to get back in P4, just behind Mario and Eric who continued their hard fight and finished in P2 and P3 respectively. Erik-Jan again took a great start, but had to retire from the race on lap 3. This promoted Eric Mulder to the lead, which he never gave up. He finished in front of Maarten, Mario Taekema, 11 year old Belgian driver Alix Cornard and Sjaak van der Wind, who all finished in the same second.
Due to the late start, Mario Taekema decided to go home early and didn't start A3. Erik-Jan again had a great start. Eric Mulder was however shadowing him and challenged hard for the lead. When both cars touched, Maarten cleverly found his way through and kept the lead till the end. Belgian driver Sven Cassiers inherited P2, and despite a hard challenge from Eric, he kept his cool and P2. The overall result was Maarten Wouters, Eric Mulder, Erik-Jan Mol, Mario Taekema and Sven Cassiers. Maarten drove a great race and took home a very deserved win. It was great to see this young racer keep his cool in a field of much more experienced drivers.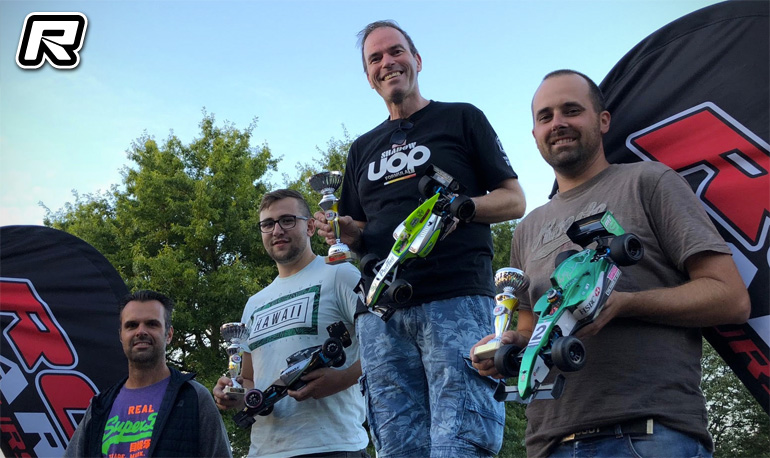 F1
Eric Bresser, a new recruit to the F1 class took the TQ on his 3 rd F1 race. P2 went to Nick Snieder, with Rob Kuijper, Martijn Van der Heijden and Bram Lagerwey rounding off the top 5. Most drivers were running the new F103 cars, but Martijn still used his older F104 V2 car. In the finals, it was clear that the TRF103 was much easier to drive and take it to the limit then the older machines. Eric also raced in the Euro stock class, and the complete driving style of both cars hampered his qualification runs. Rob Kuijper on the other hand exploited his experience of this class to the fullest to take a convincing overall victory. Bram Lagerwey took a great runner-up spot with Nick Snieder, Eric Bresser and Hampy Janssen rounding off the top 5.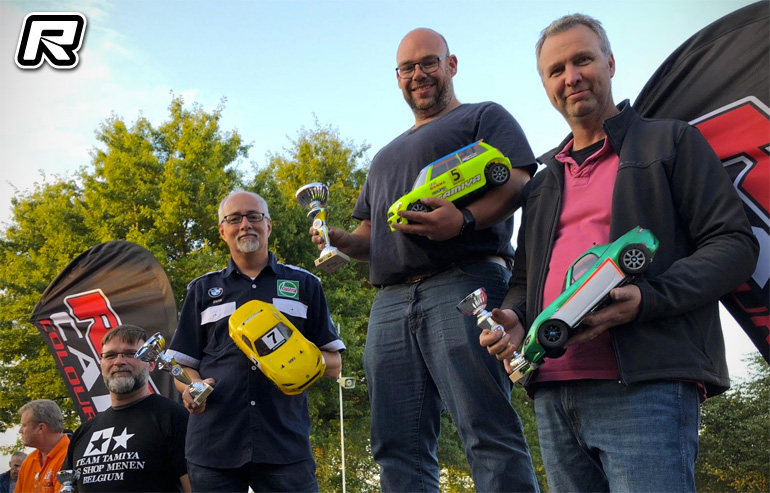 M-Chassis
This is another class in which the Dutch racers are traditionally very strong. Kevin van Leent was in a class of his own and dully took the TQ with 5 seconds in front of Robert Wolf. Belgian racer Hubert Cathelain and French driver Olivier Cornard were however quite close to Robert and were eager to get at least a podium finish. Bram Lagerwey took P5 on the starting grid.
Kevin van Leent continued his domination by claiming the win in two finals. The biggest surprise was however the outstanding drive from Fons Stabel, whos win in A2 secured him the overall P2. Robert Wolf had the same amount of points but had to settle for a fine P3 overall. Hubert Cathelain and Olivier Cornard rounded off the top 5.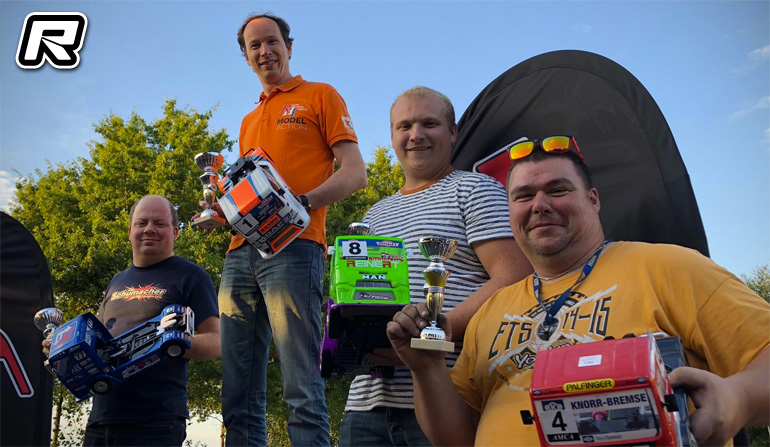 Euro Truck
This class is dominated by Dutch driver Michael Lepelaar. Normally no one even comes close to this Dutch Tamiya specialist. Belgian top touring racer Rico Claeys however had other plans and wanted to give Michael a run for his money. After the qualifications, Michael grabbed the P1 slot, but was closely followed by Rico. Eric Mulder took a fine P3, but was closely followed by the great looking Toleman Hart inspired race truck of Martijn van der Heijden and Patrick Mooyman.
The finals were very exciting with some very close battles. I have never really liked R/C race trucks, but watching them battle for position was really quite fun. Rico Claeys did everything he could, but Michael never set of foot wrong and took a very deserved win. Tim De kruif, who started P8 on the grid took the final podium spot and was followed by Martijn and Gregory Werniers.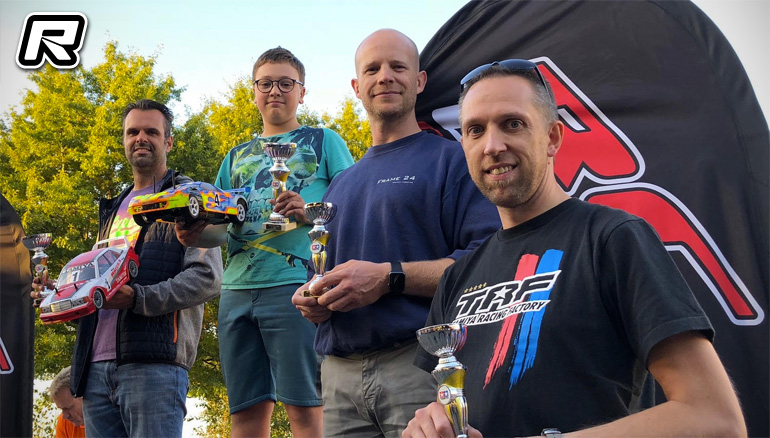 Euro Stock
This class is basically the entry level touring class. The cars use hand out Carson cup motors, which enables the cars to run at the same speed. Despite being an entry level class, it appeals to both beginning and seasoned racers. Eric Bresser took a convincing TQ and was followed by the 3 Belgian racers Jan Van der Heyden, Dirk de Ceularde and 12 year old young gun Alexander Van Gansen. Alexander missed Saturday's practice but improved from round to round. Dutch racer Peter Vennius took P5 on the starting grid.
The races in this class would prove to be real thrillers. After a fantastic drive, Alexander Van Gansen would manage to totally dominate A1. He made some great and clean passes to grab the win. A2 would prove to be an evenly thrilling race between Jan, Eric and Dirk. The 3 cars fought hard for position, but finished in this same order. Loic Dramaix took a fine P4. A3 would decide the overall victory. Alex was in a seemingly lost position, because he was facing 3 very strong drivers. He first managed to get by Dirk de Ceulaerde. Dirk made contact with a lower placed car and sportingly waited for the other car to recover. It ended his chances however. Eric Bresser seemed to have the upper hand, but Jan was chasing him very hard. Coming on the straight on the last lap, Jan saw a gap and went for it. Both cars touched and young Alexander managed to pass Jan in the process. He finished this final in P2, but it earned him a great and deserved win. The overall positions were; Alexander Van Gansen, Eric Bresser, Jan Van der Heyden, Dirk de Ceulaerde and Axel Kleingeld.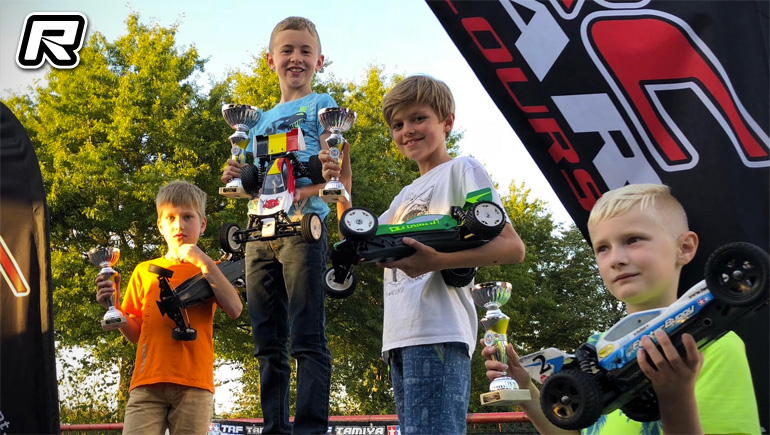 Euro Fighter
This class is made especially for the young racers. The cars are Tamiya DT03 buggies with limited options. Quinten Vervloessem took a great victory in front of Meijndert Wouters, Jaro Coopman, Sven Hoogerwerf and Lars Mol.
Thanks to David Joos for the report.
... Lire la suite sur Red RC - RC Car News