EFRA 1/10th IC Track European Championships – (...)

EFRA 1/10th IC Track European Championships – Report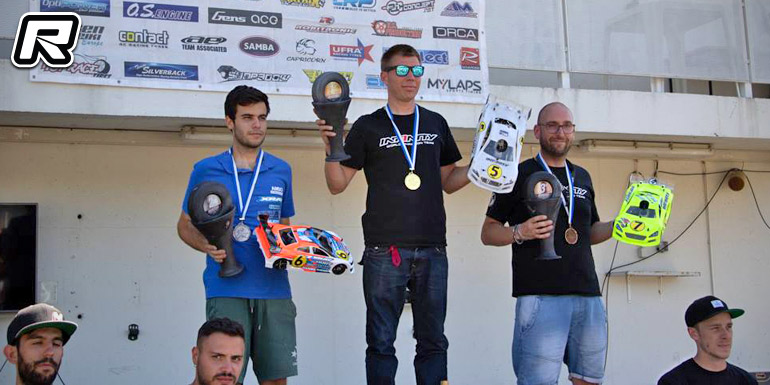 The 2018 EFRA 1/10th IC Track European Championships were held at the Vila Real circuit in Portugal this past week. After 17 rounds of practice, qualifying began and Germany's Robert Pietsch looked like he had greater consistency than anyone else in the lead up to qualifying, and so it proved as he took the first two rounds of qualifying on Thursday evening, the first from Teemu Leino and Kyle Branson, the second from Branson and Alessio Mazzeo. With the best three rounds from five to count, this put Pietsch in a very strong position going into Friday morning's final three rounds of qualifying.
Robert Pietsch sealed the pole position for Saturday's main final by taking round three from Leino and Branson, then just for good measure took round four as well from Mazzeo and Dario Balestri. Throughout qualifying Pietsch didn't appear any faster than his rivals over a single lap, but his pace was relentless and ultimately this got him to the front of the field every time. Into the last round of qualifying then, and with pole position already secured the remaining drivers were left to do battle for the four Superpole races. An early retirement from Robert Pietsch opened the door for Dario Balestri to take the round from Teemu Leino and Kyle Branson, earning all three drivers a spot in the Superpole shootout along with Alessio Mazzeo.
In the Superpole races Alessio Mazzeo was first to run, setting a best time of 20.802 on his final lap, which Kyle Branson set about trying to beat, just coming up short as he recorded a 21.081 on first lap out of the pits. With Mazzeo's time still standing, Dario Balestri was next to run, and looked doomed to fail after a scruffy first three laps with a clearly aggressive car, before a fantastic fourth lap effort of 20.633 moved him to the top of the timing screen. So convinced was Dario that he couldn't go faster that he abandoned his efforts at that point, leaving just Teemu Leino to run. Teemu tried as hard as possible but failed to beat Dario's time, ending up with a best lap of 20.948 on his final effort, so Balestri secured the second guaranteed starting position for the main final.
In the Semi B Kyle Branson led away from his pole position, closely followed by second place starter Toni Gruber and third place man Francesco Tironi. With the top three finishers from each semi final guaranteed to make the main final, these three continued to edge away from the rest of the chasing pack, taking care not to unduly slow each other by battling too hard for position. Branson led until the second round of stops when a slightly slow stop allowed Gruber to take a lead which he held till the end, with Branson finishing second and Tironi third to secure their main final places. Fourth and fifth placed men Fabio Ramos and Joao Figueiredo faced an anxious wait to see if their times would be good enough to take them through to the final as the fastest losers from the Semifinals.
In the Semi A Teemu Leino made a clean start from the front and set about building a lead over Alessio Mazzeo, with the lead only changing during the first pit sequence. Once everyone had pitted Teemu was back at the front of the pack, and there he stayed until the end of the final, winning by six seconds from Mazzeo. Star of the show was ninth place starter Juan Garrido, who picked up places through every round of pit stops and made some decisive passes on track to hold off the hard charging Carmine Raiola for third place and the last guaranteed main final position. Raiola was not to be denied though, for both his time and the time of fifth place finisher Sergi Codina were good enough to qualify as the fastest semi final losers.
At the start of the main final Robert Pietsch got away into the lead for two corners, before Dario Balestri displayed his intent and passed Pietsch to lead across the line for the first time. Dario continued to lead until a small mistake on lap six presented Robert with the opportunity to pass, taking a lead which he maintained through the second round of pit stops, his job made easier by Balestri flaming out twice on his out lap from the first round of stops dropping him to the tail of the field. During the second round of stops Pietsch was given a drive through penalty for an unsafe release which allowed Toni Gruber to close in but not to pass.
Pietsch elected to do a full tyre change at his fourth stop, hoping that the extra pace provided by his fresh tyres, coupled with the strong pace he'd shown all week would be enough to overcome the time loss from a full change. Whilst this had been going on, Teemu Leino had been using his experience and some good pace to move to the front of the chasing pack, Teemu visibly not driving as hard as Robert but hoping not to have to do more than one full tyre change during the final. Sure enough, when the two were briefly together on track as their strategies intertwined, Pietsch passed Leino in the sweeping curve at trend of the main straight with relative ease, before stopping for another full change later in the run allowing Teemu back to front of the field.
This was setting up the prospect of a thrilling finish with the faster car of Pietsch on his fresh tyres chasing down the car of Leino, trying to nurse his more worn tyres to the end of the run – unfortunately for Robert a couple of engine cuts in the pits on his hundredth lap dropped him towards the tail end of the field; a real shame after his dominant display all week. This drama reduced the pressure on Teemu, now leading by some five seconds from Alessio Mazzeo, who in turn had a further fifteen seconds in hand over Francesco Tironi.
Teemu Leino crossed the line around three seconds before the buzzer indicating the forty five minutes were up, allowing him the luxury of a well deserved victory lap after a display of cool headed driving to earn a popular win, with Mazzeo trailing him across the line in second and Tironi finishing third.
Source: EFRA [efra.ws]
... Lire la suite sur Red RC - RC Car News