Akio completes quali clean sweep, Groskamp to start (...)
Akio completes quali clean sweep, Groskamp to start 2nd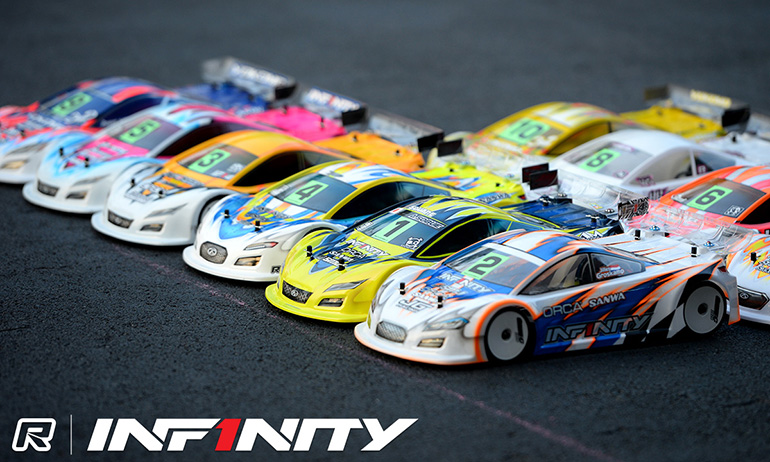 Having wrapped up the overall TQ in the penultimate round of qualifying at the 2020 TITC, Akio Sobue has gone on to complete the clean sweep by making it four out of four in the final round.  Having topped seeding on Thursday, the Infinity driver has maintained a distinct advantage over his rivals taking the final qualifier ahead of fellow countryman & new for 2020 team-mate Ryosuke Yamamoto, his advantage once again a commanding 3-seconds. With Naoto Matsukura getting up on two wheels during his final attempt, Jilles Groskamp would hold onto his second place starting position, the Dutch driver finishing 3rd ahead of Naoto in the weekend's fastest heat.  Meen Vejrak again managed a Top 5 run and the fastest lap of Q4, Day 2 of qualifying going much better than yesterday, and with that result the Yokomo driver will line-up 6th for tomorrow's A-Mains when four Yokomos will go up against six Infinitys.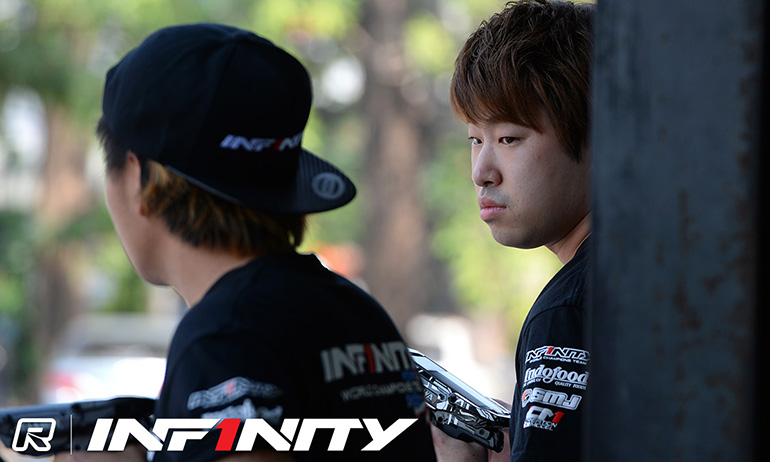 Commenting on his clean sweep, Akio said, 'I went with the same set-up as the last controlled practice but now it was a little loose.  It had good pace but it was difficult to drive'.  Asked about tomorrow's finals, the 2018 Champion replied, 'It all looks good for tomorrow. My car still has better pace than the other cars'.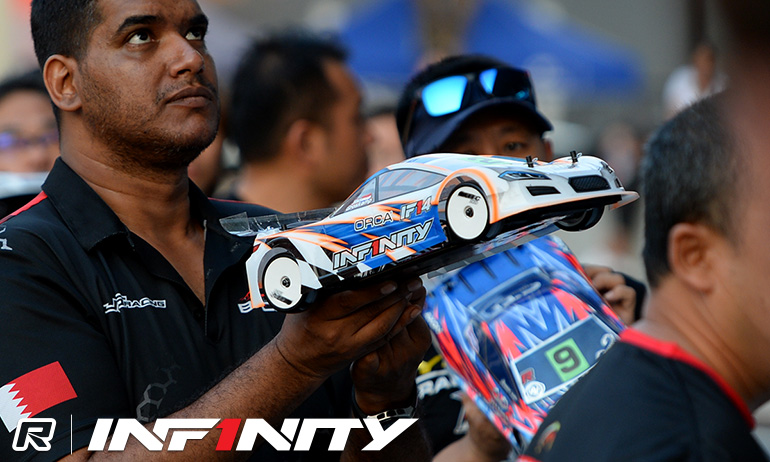 'I got my P2 (on grid) so I'm happy with that', was Groskamp's reaction after Q4.  On his final qualifier, the 2012 World Champion said, 'I had a few moments when the car got loose in the sweeper but I was able to catch back up to second (in the heat).  The track conditions were crazy different again so it was hard to tell exactly what set-up changes are doing but I think I might go back to the set-up I was running in Q1 and Q2'.  On his chances for the final, the Infinity driver said, 'the gap is still there to Akio so I'm happy to settle for second but I'm going to have to fight for it with Naoto'.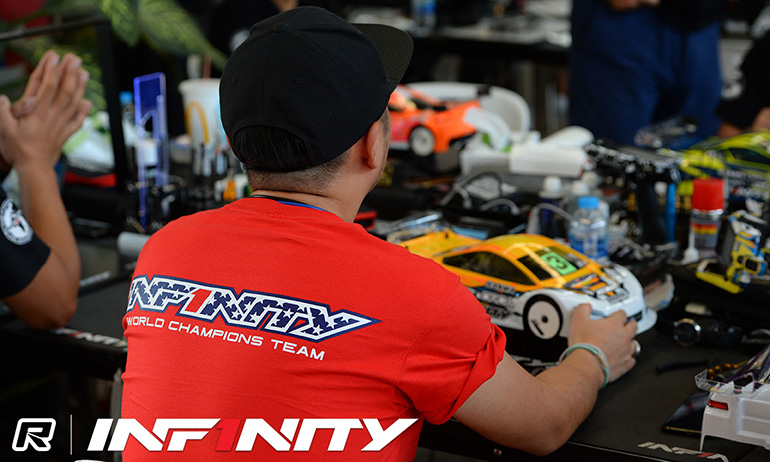 Summing up his Q4 performance, Matsukura said, 'the car was better than before but still not close to Akio, the track was also better for this one.  One time I went on the curb too much and almost flipped. That made me lose my rhythm and hade a few moments so I lost about 1-second in total'.  Starting 3rd on the grid, last year's runner-up said, 'It will be difficult to win.  I have to pass Jilles and then Akio and he is very fast but I will still do my best to try and get the win'.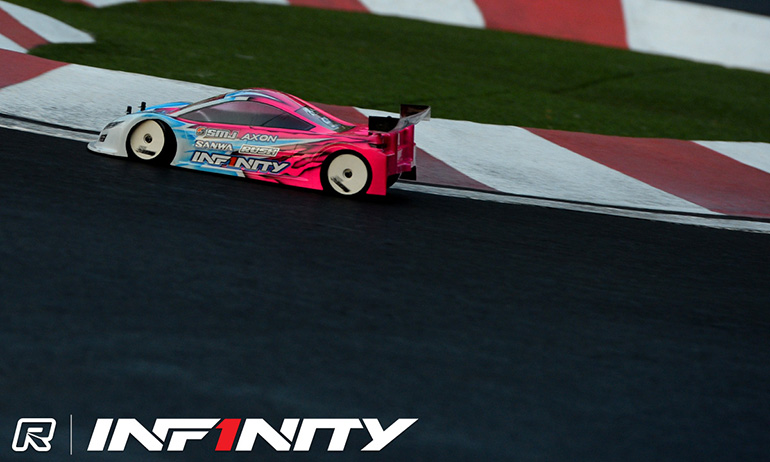 After impressing in the opening qualifier with a P4 but then dropping off a little in Q2, Yamamoto put his impressive P2 in the final qualifier down to both an improved set-up for the conditions and being more relaxed.  Suffering slightly from nerves after his strong start to qualifying, the 20-year-old ran a softer front spring on his IF14-II for the final qualifier and having already locked himself in to the A-Main on his TITC debut he could drive with no pressure.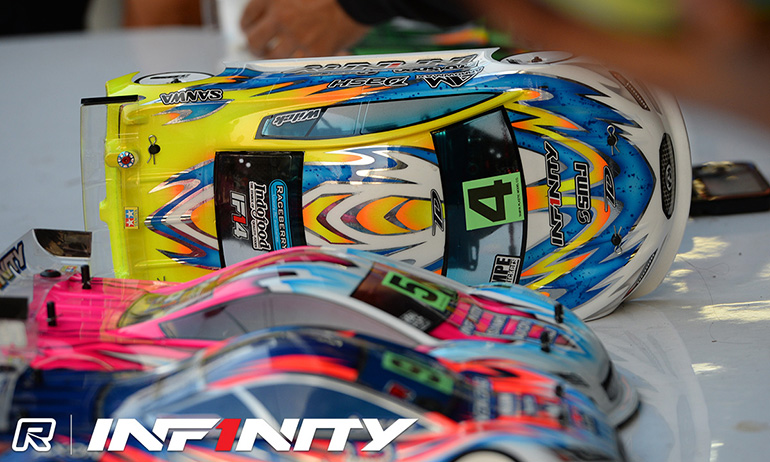 Demoted to 5th on the grid by Yamamoto, Viktor Wilck said, 'I can't find a middle point.  The car is either too loose or too stable.  I went with the wrong set-ups today. I should have run this set-up in the morning and the morning set-up in the evening.  It's a little frustrating.  Still overall it's a good result for the team and the new car.  We will see what I can do in the final'.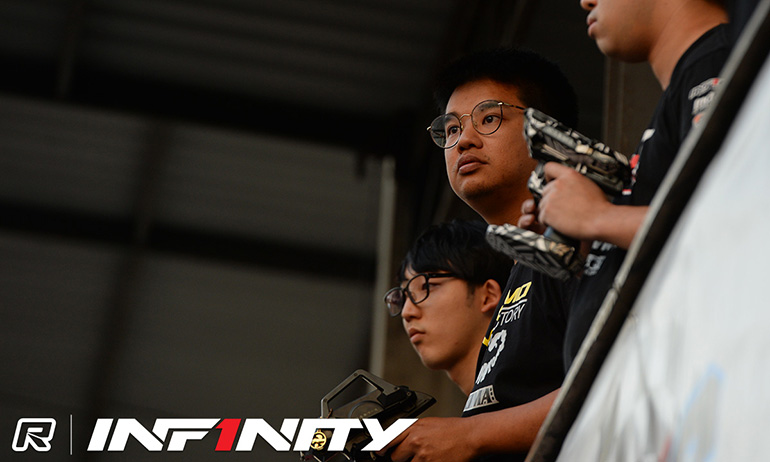 Setting a marginally faster best lap time than Sobue in the final qualifier, Vejrak said, 'I am really happy with the last one.  I feel the car can come back into the game except against Akio who is really fast'.  He continued, 'I had the best lap for the last one which is promising but I need to improve the car more for tomorrow. I need more overall grip but finding it is not easy. When it is hot the car is ok and the drop (in performance over the 5-mins) is OK'.  Asked about the layout in terms of racing for track position, the Thai driver said, 'It is not a difficult layout but it is fast so it could be difficult to pass and I also have all Infinity drivers in front of me'.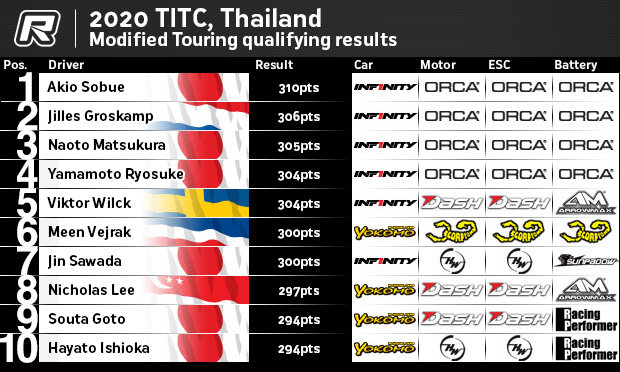 ---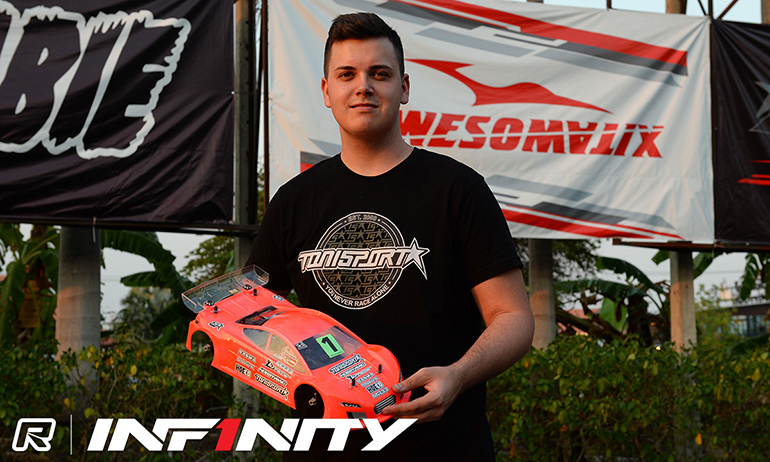 In the Open Class, Austria's Dominic Vogl is the Top Qualifier.  Having returned after making his TITC debut at the Infinity Addict Circuit last year, the Awesomatix driver came back from destroying his car in Q3 to TQ the final round in a car prepared for him by Australian team driver Ryan Maker.  Explaining his crash on his warm-up lap, he said, 'I was running rear, rear tyres and maybe needed to be more patient warming up the tyres.  The car was destroyed so Ryan prepare a car for me fitted with the geardiff from my car and my set-up and it was much better'. Starting tomorrow's A-Main ahead of Zero Tribe driver Kriengsak Suttiprawat, Infinity's Trin T and Serpent's Bowie Ginting, he said, 'I will go with lighter oil in the geardiff and be more patient at the start, then it should be fine. From the middle to the end I should be fine, but at the start Suttiprawat can challenge me'.
View our event image gallery here.

... Lire la suite sur Red RC - RC Car News