Performa P1 Controller 60A brushless ESC
Performa P1 Controller 60A brushless ESC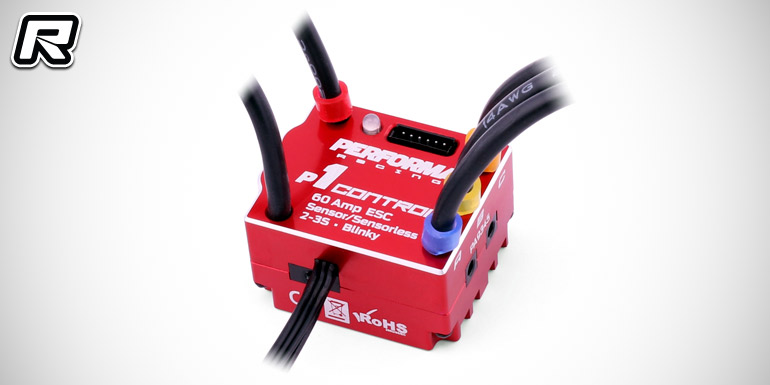 Available now from Performa Racing is their new P1 60A brushless controller, an ideal first racing ESC. 2S to 3S LiPo-compatible and being a sensored controller, the speedo's blinky mode allows competitive racing when running in spec motor classes. It can be used also with timing for club racing, "outlaw" or hobby use with down to 6.5T motors. The ESC is housed in a machined aluminium case for optimsed heat dissipation and it comes pre-wired with black receiver, power and motor wires for a professional look.
Features:
– Reliable hardware with advanced software allows the Performa P1 60 A to provide high power output and overload protection.
– The full aluminum case acts as a heat sink and provides a large surface area for heat dissipation.
– The small, compact size allows the Performa P1 60 A to fit in most 1/10 buggies and touring cars, 1/12 pan cars and F1 cars.
– The ESC was designed for 1/10 touring car, 1/12 pan cars and F1 cars, and is an excellent choice for any spec racing class.
– The Set button on the ESC allows the user to easily program the ESC.
– Upgrade the Performa P1 60 A with the Performa USB Link software, multifunction LCD program box and a PC. Settings can be easily adjusted with the simple PC software or the Program Box
Specifications:
– Model: Performa P1 60 A
– Cont./peak current: 60A/380A
– Applications: 1/10, 1/12, on-road & off-road, club competition and normal training
– Motor limit: 2S LiPo 6.5T, 3S LiPo 13.5T
– LiPo/NiMH Cells: 2-3S LiPo/4-8S NiMH
– BEC Output: 6V, 2A (Line-mode BEC)
– Connectors: Input End: No, Output End: No
– Size: 37x30x21mm
– Weight: 63g
– ESC Programming: switch button, program box, PC
Source: Performa Racing [performaracing.com]
The post Performa P1 Controller 60A brushless ESC appeared first on Red RC.
... Lire la suite sur Red RC - RC Car News